The college library is situated on first floor in teaching block, having a capacity of 150 readers. There are 10147 books and 5600 back volumes of journals. The library is receiving about 85 Indian/ foreign journals currently. Library has microfilm reader/reprography equipment. Recently has established a Caber Unit with Internet linkage.
Library has special services to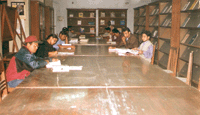 its readers SC/ST Book Bank Services to SC/ST students. Inter-Library –loan facility is available from National Medical Library, World Health Organization, and Regional Libraries for books and Journals/Photocopies. Internet and on-line MEDLARS/search are available for academic purposes to facilities and students. The library automation is under process.
The library is open for students from 11:00 AM to 7:00 PM on working days. Graduate students can study books in the library only. Damaging books or tearing them is a serious act of indiscipline and shall be punished.